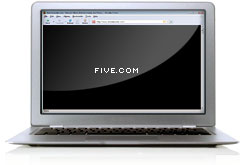 Today's UUOPD (Unusual Usage of Premium Domains) website is Five.com. Five.com unusual because when you visit the site, all you see is a black background and "five.com" in tiny white letters in the center of the screen. You can't really go anywhere or do anything, but hey, at least you know where you are, right? What also makes this website unusual is that if you look at the source code of this extremely basic looking website you will see that it is slightly more complex than you think; it uses css for formating and statcounter to track visitor activity. What exactly was the owner thinking? Perhaps the conversation went something like this:
Five.com owner: Sweet, I just registered five.com.
Five.com owner's friend: That is a great name, what are you going to do with it?
Five.com owner: I have big plans for this one. First, I am going to show off my awesome coding skills by using css to create a black background. White is lame, all the cool sites have black backgrounds these days.
Five.com owner's friend: You rock, and black backgrounds rule. What are you going to do next?
Five.com owner: Well, obviously I am going to use some tiny text to spell out the website address, and center that on the screen. Then I will add statcounter code to see who is visiting.
Five.com owner's friend: Yeah, that way you can see who is visiting and where they are going on your site. There are going to be other pages right?
Five.com owner: No way. I don't want to confuse people with complex navigation and too many words. I am just going to keep it simple.
❓