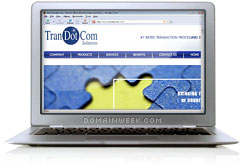 Ok, so I think I found the worst company name ever combined with the worst choice for domain names ever. This one is so bad, it might even make Aaron from good URL bad URL cry. It is so bad that I had to stop and take a picture of it (check out the picture below). My wife and I were driving to a restaurant when I noticed a sign with a company name – TranDotCom. I said "Hey, that's a pretty good domain name, Tran.com." My wife said, "Yeah, but why did they spell out the dot, instead of just using the symbol?"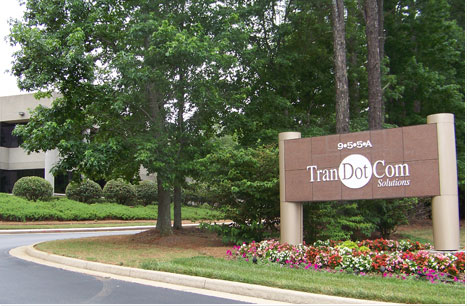 I quickly pulled out my iPhone and entered "Tran.com" and sure enough, they do not own it. I said, "you don't think…" and then entered "TranDotCom.com" which not only worked, but made the story even better. TranDotCom.com actually redirects to their company site at "www.TranDotCom.info." Yep, that's right, their company website is officially TranDotCom.info. I'm sure they are a great company, but I wonder how much time they waste just explaining their website address to people.
Can you imagine working for that company and talking to a customer on the phone.
Employee: Hello and thank you for calling TranDotCom.
Customer: Hi, I visited Tran.com and I could not find out anything about your company.
Employee: What website did you visit?
Customer: Tran.com
Employee: Oh, our website is actually TranDotCom.info.
Customer: Well, I just entered Tran.com.info and nothing happened.
Employee: Would you prefer to just send us an email?
Customer: Sure, what is your email address?
Employee: Our email address is info@TranDotCom.info
Customer: Ok, got it. info@tran.com.info
Actually, I think that they probably had a few too many conversations like that because after reviewing their website, it appears that for email they are using tdcemail.com. 🙄
Bonus Picture: Employee of the month parking spot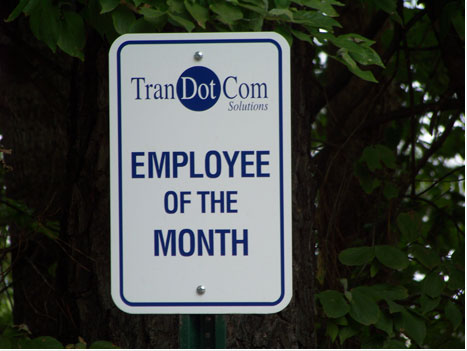 Understandably, the employee in charge of domain name selection has never parked there.